Dufferin and Southgate, Kamloops, B.C. Real Estate
For up to date Kamloops area homes for sale click here.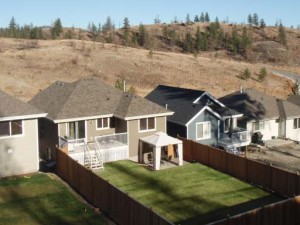 Neighbourhood: Dufferin and Southgate, Kamloops, B.C. Real Estate. Dufferin is located south west of the city of Kamloops and north of the Trans Canada highway, Aberdeen and Pineview, set up against Mount Dufferin. Southgate is located west of Kamloops city centre and is the home of Thompson Rivers University, many businesses, industrial parks and major retailers. You can reach the two areas in five to ten minutes by car.
Properties & Real Estate
Dufferin has a mix of housing units. New and older single family homes dominate the region with newer townhouse units also available. Dufferin doesn't have the variety of homes on the market like it's neighbours Aberdeen or Pineview Valley but there are some great properties to choose from.
The more mature area of Dufferin is located near Aberdeen Mall. Pacific Way, Cannel Drive, Hillside Drive and Place, Cascade Street, Mt. Dufferin Drive, Avenue and Crescent, Park Way, Plateau Place, Monteray Place, Davies Place, Sunshine Court and Place and Scott Place all make up this mature part of Dufferin. This area does have some new and recently built homes but you do find more mature trees and landscaping in this region of Dufferin. One of the newer developments in Dufferin can be found at the top of Hillside Drive where it meets Copperhead Drive. Copperhead Drive and Saskatoon Place make up the newer development that is set against the hillside of Mount Dufferin.
Hidden Trails at Mount Dufferin is the newest subdivision going in to the Dufferin area. It is located at the end of Pacific way and is bordered by Kenna Cartwright park. There are currently plans for numerous single family lots (4 phases) and two multi-family developments. Orabella townhouses are in various stages of completion on Prairie Rose Drive. Rockress Drive is Phase 2 of this development and is currently in the development stages where some homes are complete and new ones are being built monthly.
Click here to view homes for sale in the Dufferin and Southgate area.
Shopping & Services
Dufferin sits north of Aberdeen and Pineview Valley up against Mount Dufferin. Dufferin is closely located to all the local retailers including Aberdeen Mall, Costco, Chapters, Staples and many other stores. Southgate and Sahali are mainly home to numerous businesses, strip malls, industrial areas, big box stores (Real Canadian Superstore, Safeway, Save on Foods, Winners/Home Sense, Home Depot, WalMart, Michaels). A number of financial institutions are also located in the Southgate area including BMO, TD Canada Trust and CIBC to mention a few.
The Cascades Casino is located minutes from Dufferin. The casino also houses three restaurants.
Schools
Dufferin has an elementary school (Dufferin Elementary School). Secondary students attend either Sahali Secondary School or South Kamloops Secondary School. Thompson Rivers University is located in Southgate. The campus is positioned at the intersection of Summit Drive and McGill Road. TRU is a fully accredited University and offers a variety of programs and courses to students in many different areas of study.
Recreation
Kenna Cartwright park is located in Dufferin and Southgate, sitting on 800 hectares of Mt. Dufferin and easily accessible on the north east side of the mountain (near the Home Depot) or at the top of Mount Dufferin off of Pacific Way. This beautiful park has panoramic valley views and many hiking and biking trails for the whole family.
Tournament Capital Centre is located at Thompsons River University and has many different facilities all in one building. Gymnastics, swimming, indoor track, fitness facility, courts and much more. There are also a number of sports fields that surround the facility.
Dufferin Elementary School has a playground for children.
Transportation
Dufferin and Southgate have regularly scheduled public transportation. Public transportation stops at the Aberdeen Mall, major shopping areas and TRU making them easily accessible. Click here to view the BC Transit website.
Dufferin is located seconds from the Trans Canada Highway #1 and the Coquihalla. This makes this area desirable for people who work out of the city centre (such as Highland Valley Copper Mine in Logan Lake and New Gold in Cherry Creek).
The Kamloops Airport is under 15 kilometers from Dufferin and is a 20 minute drive.
For more detailed information about MLS home listings in Dufferin,  Southgate and all of Kamloops click here.
To read more about other neighbourhoods click the link below:
Aberdeen                                          Barnhartvale                          Batchelor Heights
Brocklehurst                                    Campbell Creek                      Dallas
Deloro/South Thompson Valley      Cherry Creek                       Dufferin/Southgate
Heffley                                                Knutsford                               Juniper Heights
North Kamloops                           Paul Lake/Pinantan Lake        Pineview
South Kamloops/Downtown         Sun Rivers                               Sun Peaks/Whitecroft
Valleyview/Rose Hill                      Westmount                             Westsyde
Surrounding Communities